PROJECT
JUNE adapts to your project - not the other way around. Specific workflows and data structures map every project - without the need for programming.
The project workflow is controlled via scheduled actions and follow-up actions. In this way, entire work processes can be automated.
The workflows and actions can be individually created and adapted.
Visualisation and editing of project workflow via intuitive flowchart display.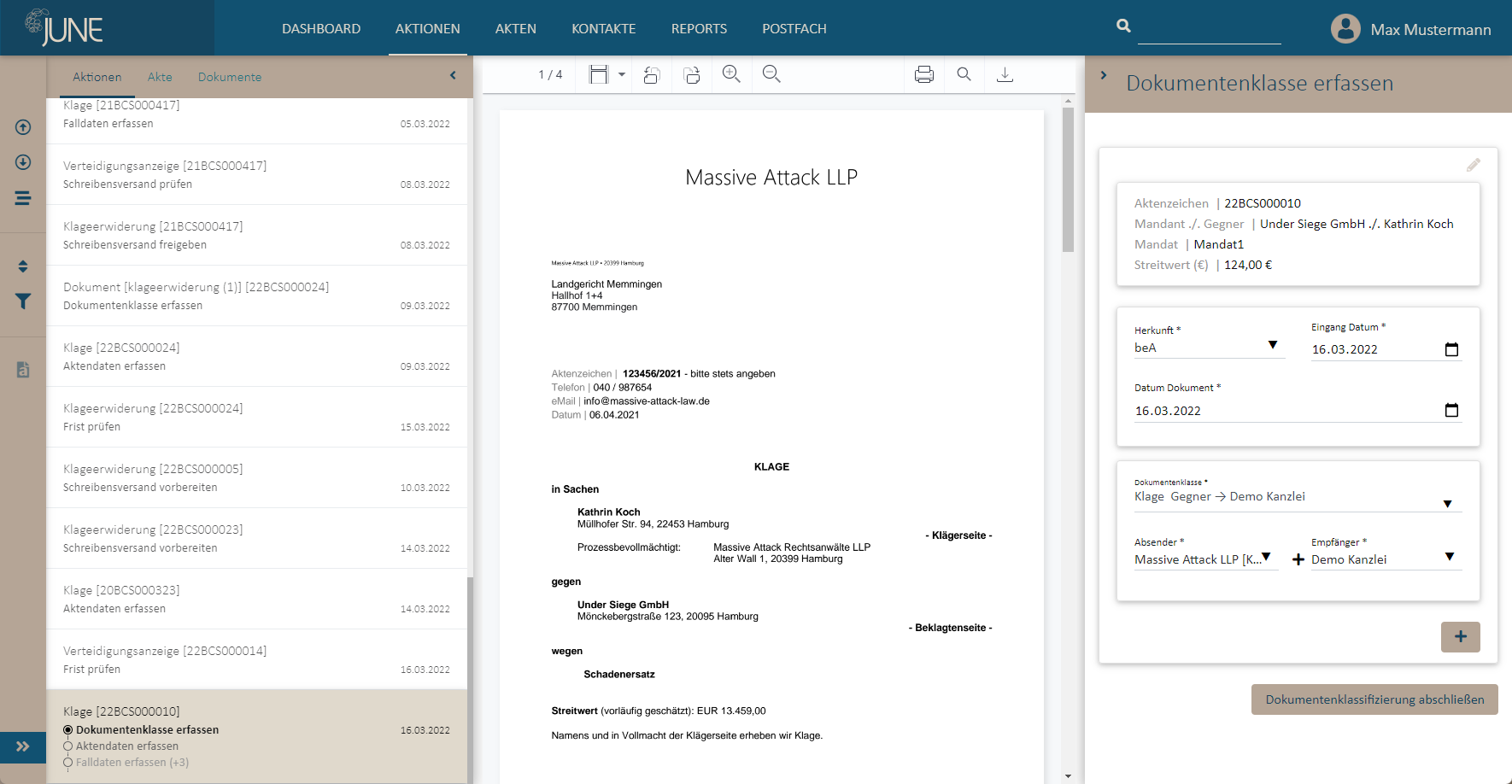 DATa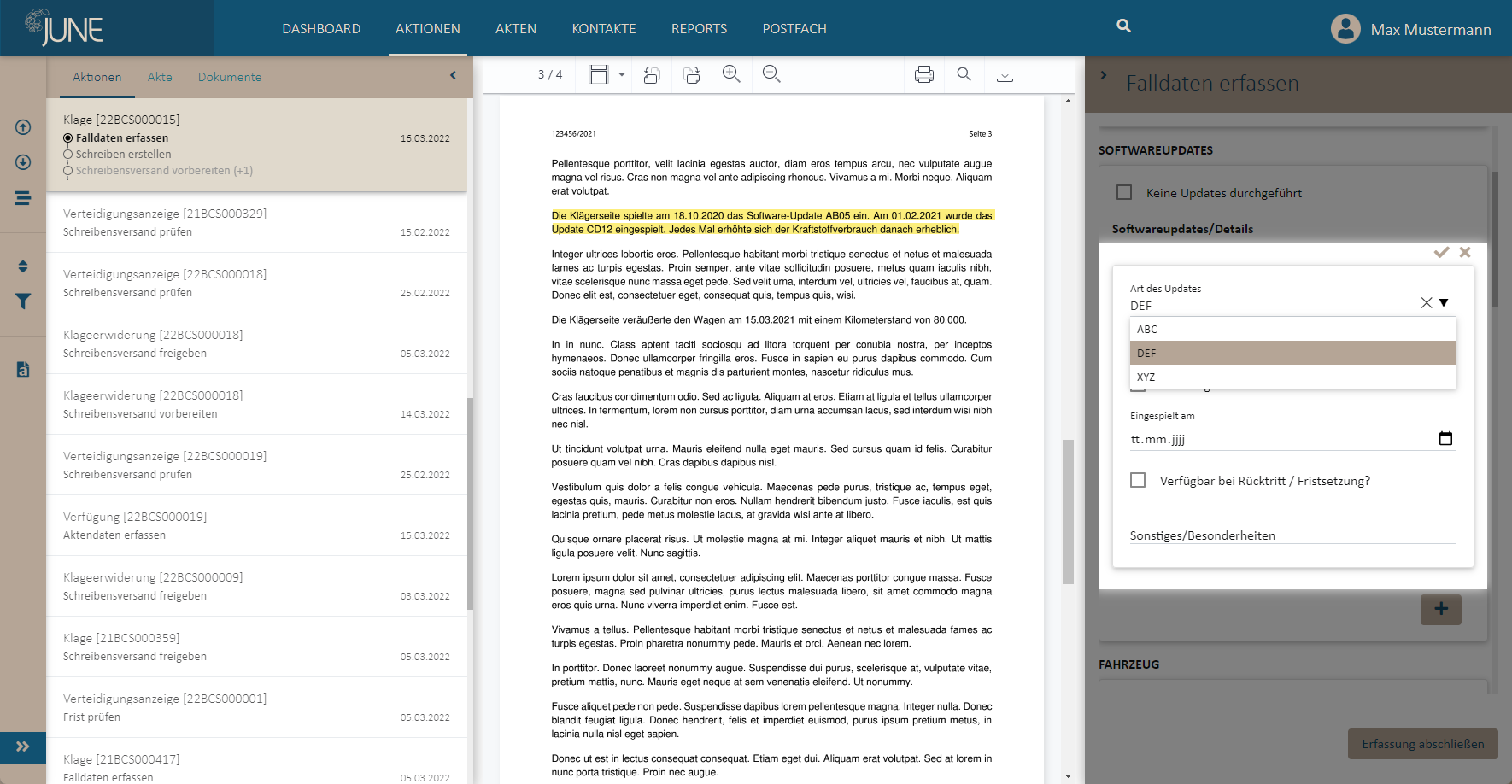 Documents are the data. The focus is on intelligent data collection: working directly in the documents as soon as they are received. In this way, words, sentences or entire texts become structured data that provide the starting point for all processing processes.
All incoming documents are readable and searchable using the integrated OCR (Optical Character Recognition).
Recurring information can be automatically recognized and read.
Master data and case data are intuitively recorded directly in the document and saved as full text.
All references can be found again at any time and used as full text.
Case Data Capture can be flexibly adapted to progressive project requirements via a real-time graphical interface with no programming knowledge required.
JUne Story
JUNE STORY shows the file history from different perspectives and provides a completely new look at what happened, the content and the role of those involved.
All steps and events are recorded clearly on a timeline.
The entire communication is listed according to participants in dialogue optics.
Essential contents of communication are immediately recognisable.
Deadlines and dates are listed separately or in the context of the entire communication.
In a storyline, special events are defined as milestones and highlighted visually. Important documents can be called up directly.
Deadlines that have already been completed, past deadlines or completed actions of a workflow can be made visible again at any time as "inactive elements".
Everything can be filtered and searched.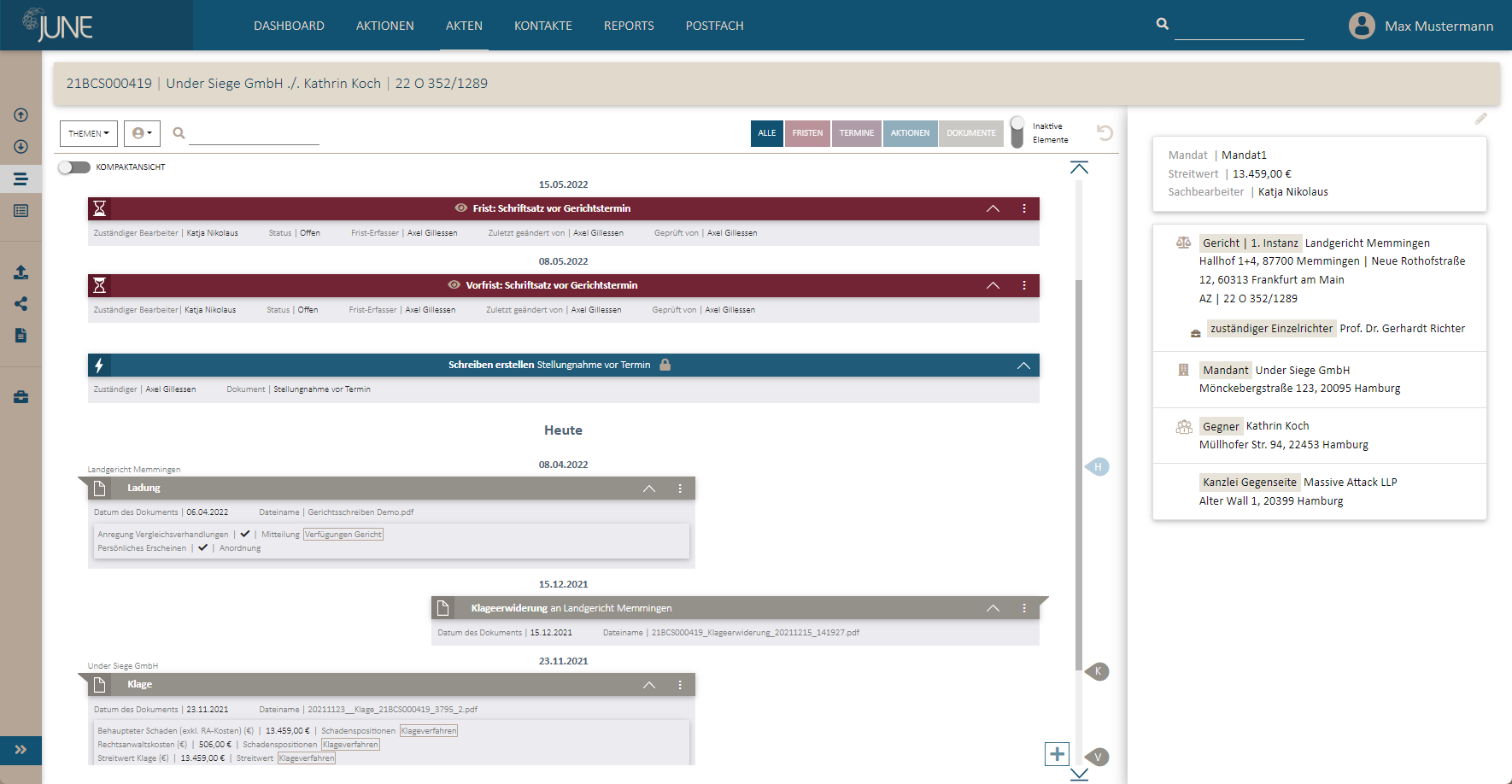 ACTIONS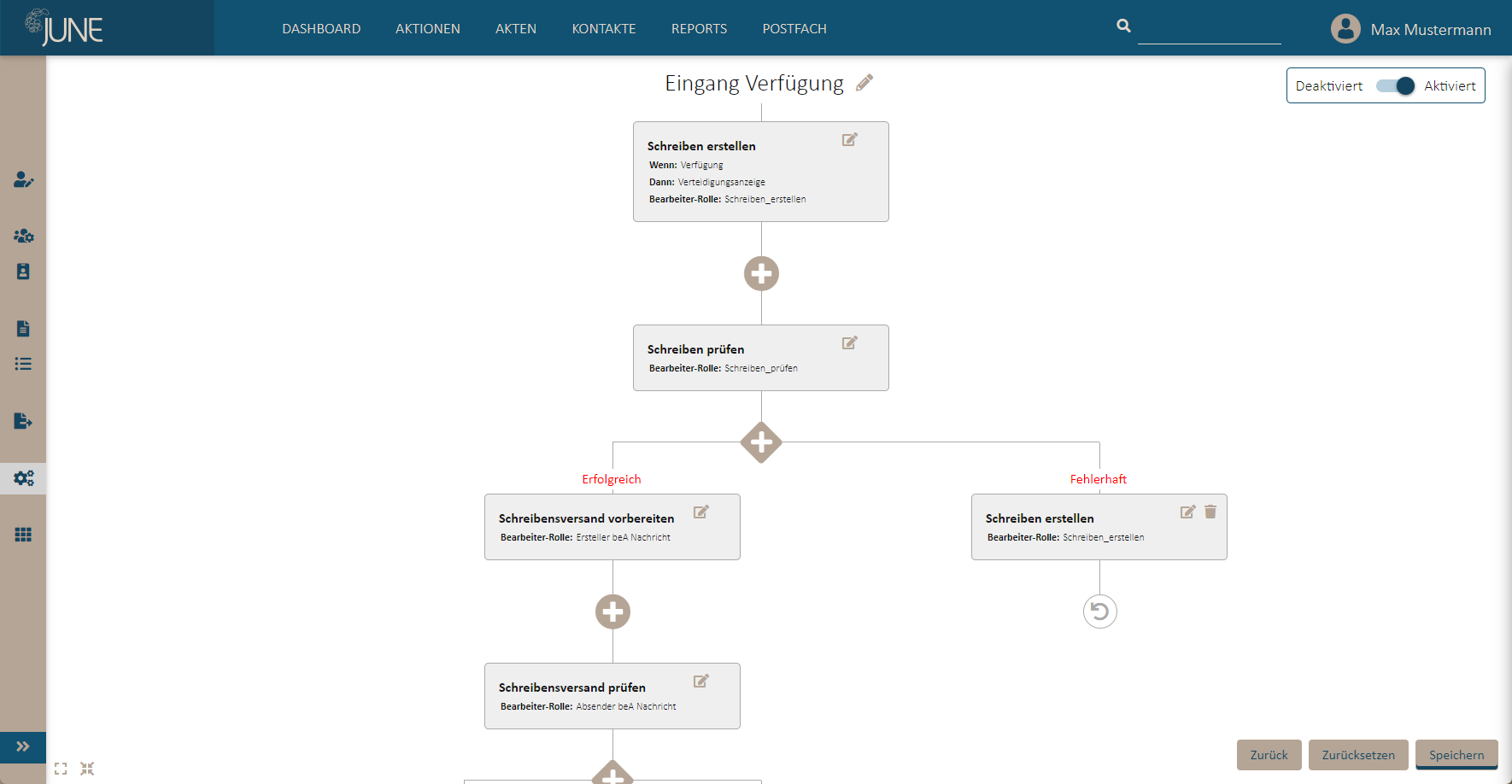 Actions determine the next step in the project. Both in internal processes and in external communication. Action- based workflows secure the operational processes. Unspecific general follow- ups are a thing of the past.
An action defines who has to do what, at what point in the file, and what happens afterwards.
Actions are used to terminate both automatic processes (e.g. letter creation and deadline calculation) and manual work steps (e.g. dispatch approval, deadline check) and their execution is logged.
Uncomplicated creation and adaptation of workflows and actions. The project workflow is displayed clearly as a flowchart.
REPORTING
Structured data and logged actions allow real- time reporting for all authorized persons and thus the basis for economic and strategic decisions.
Tables are a thing of the past.
Flexible dashboards provide specific information for different user groups.
Individual reports can be created both automatically and manually.
Once configured, always available 24/7.
Processing status and success rates can be traced at any time - in individual cases or as a whole project.
Access to the reporting module by external parties with restricted rights defined by the customer.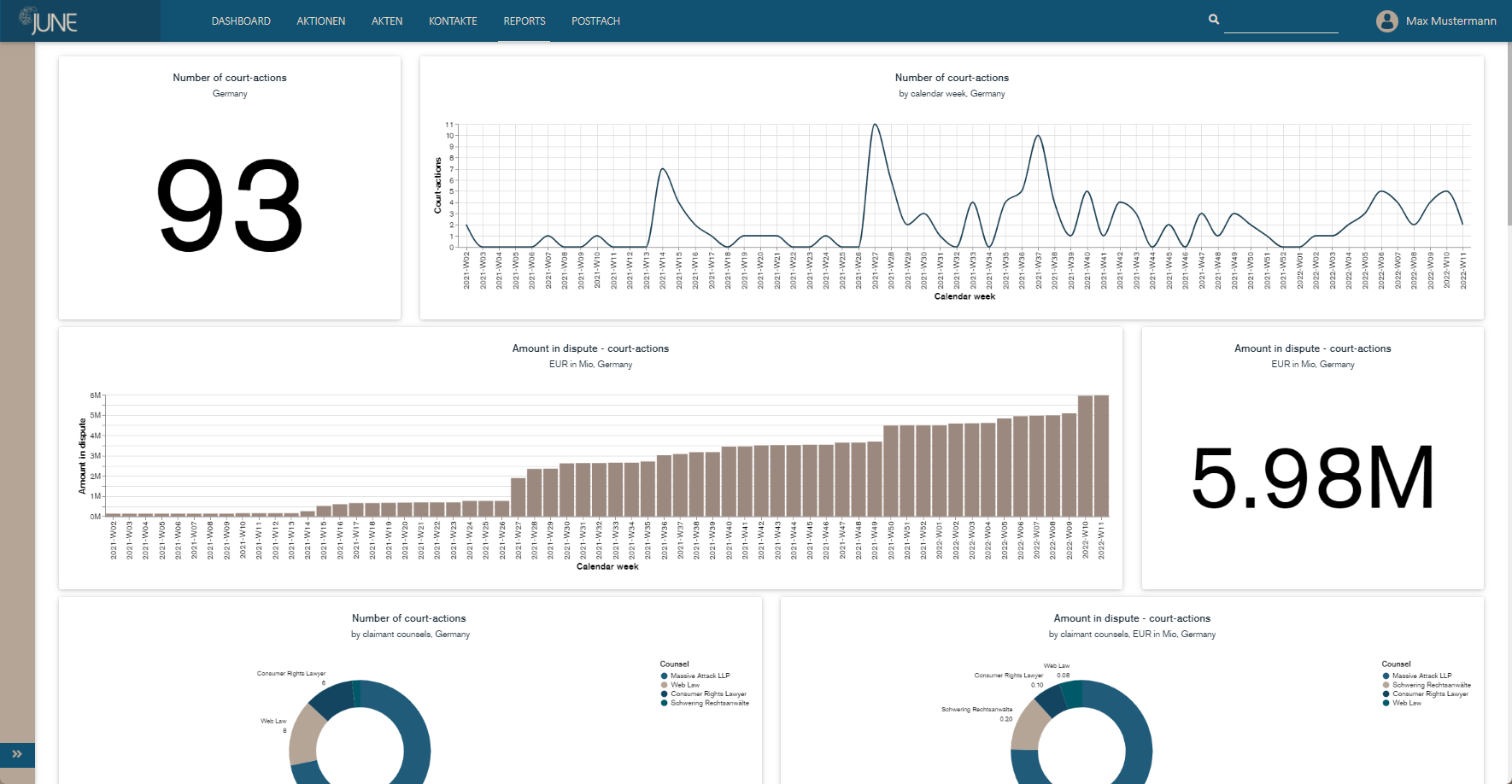 TEAMWORK / COLLABORATIVE WORK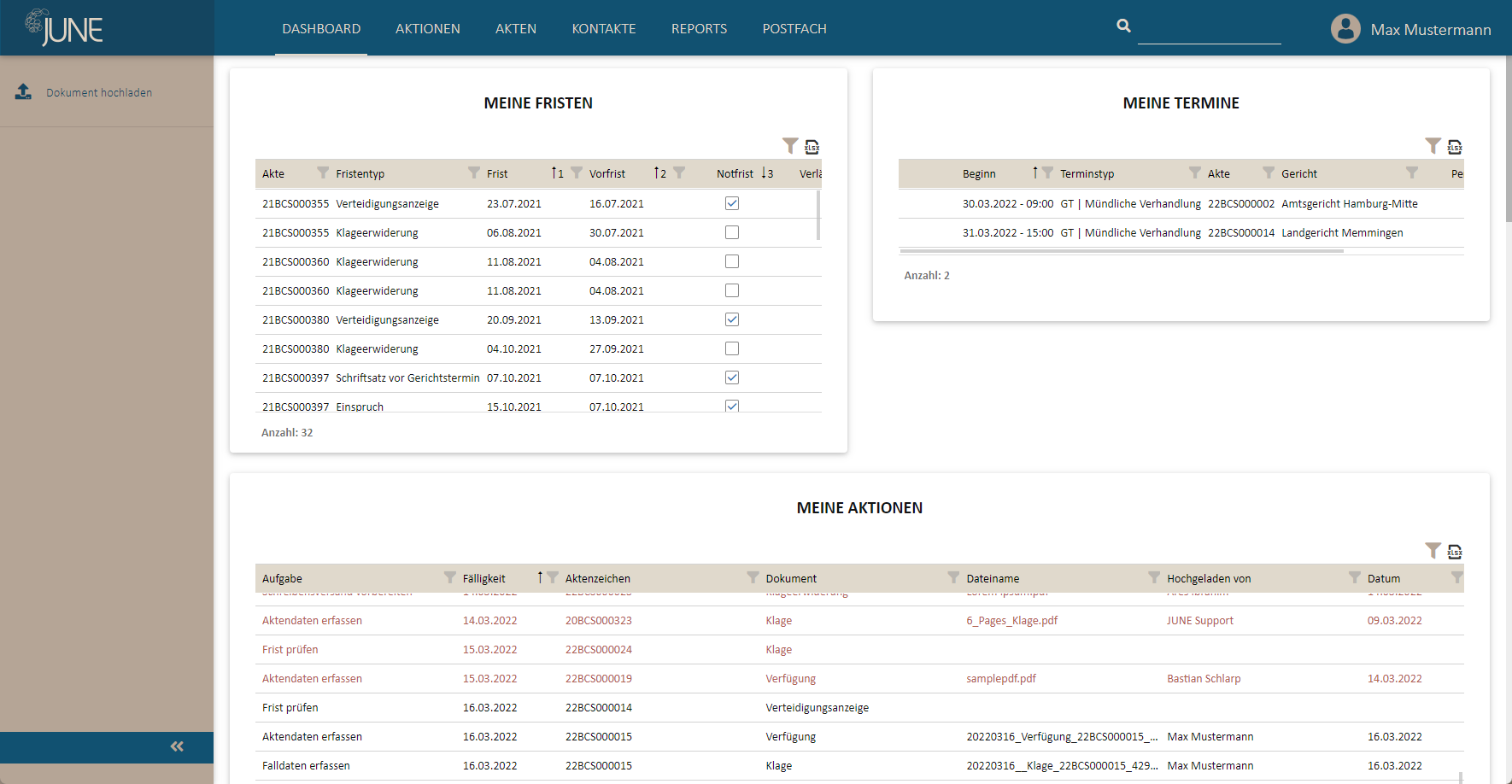 Designed for teamwork. Collaborative. Specialized. Location-independent.
Pool tasks are checked out for processing and the processing status for the team is updated live.
Roles and rights can be assigned flexibly.
Specific dashboards focus on the essentials.
SEARCH
The latest search engine technology makes any information instantly locatable, be it master data, case data or entire document content.
The full text search is possible across the entire document pool including all structured data.
Search terms are analyzed, meaningfully combined and the results categorized and prioritized according to the various criteria. Searching via individual data fields is thus redundant.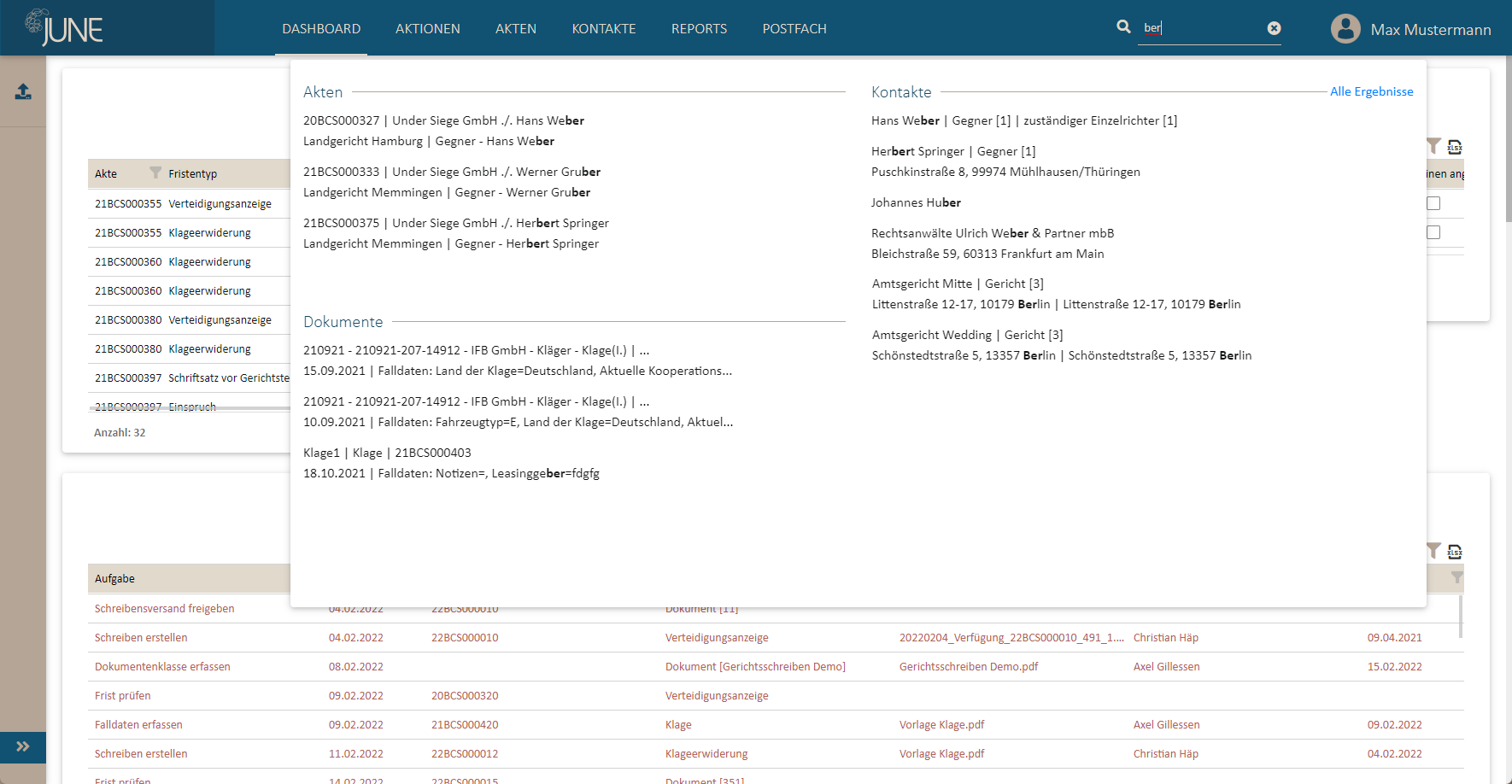 SECURITY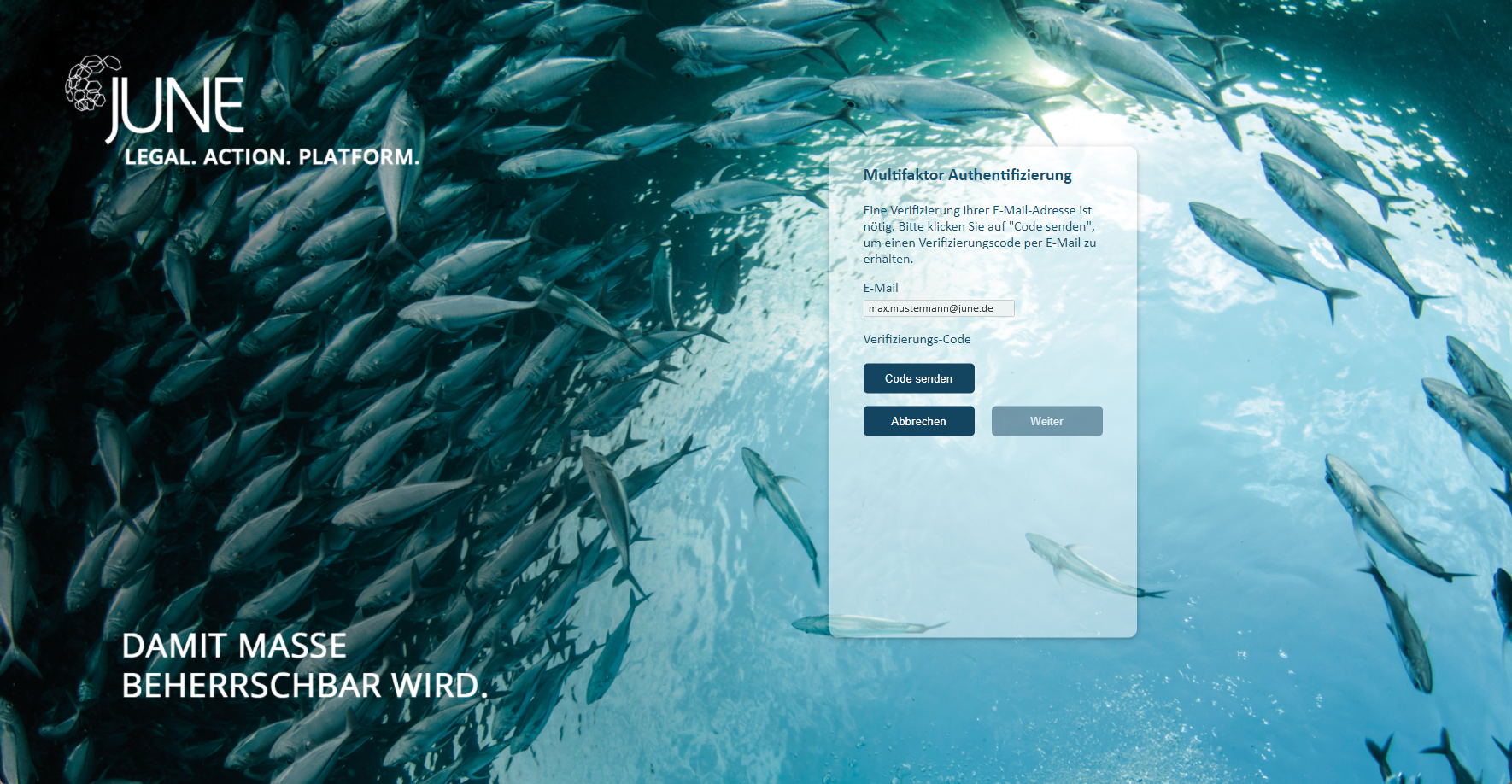 JUNE is designed as an ISO certified and highly secure cloud platform for enterprise applications. Scalable. Readily available.
Data stored exclusively in German data centres with comprehensive compliance certification (including ISO 27001, 27017, 27018, SOC 1, 2 & 3, C5, TISAX).
Data transfer and storage is encrypted, redundant and separated by customer or project.
"Bring your own key" procedure; keys are generated by own hardware security modules.
Single sign-on (connection to your Active Directory or other providers) with individual assignment of rights according to your specific project requirements.
Multi-factor authentication
INTERFACES
JUNE is not a data silo. Interfaces enable flexible connection to your own service providers or tools.
JUNE offers a central API interface based on current standards such as REST and JSON.
All parts of its architecture communicate via BUS system.
JUNE replaces numerous individual modules or programs and allows the integration of third- party software.
Further service providers can be connected at any time.
Different providers can be addressed for incoming and outgoing data, for example when sending e-mails.